Mortgage rates
were on the decline for the third consecutive week, according to new data from Freddie Mac.
The
30-year fixed-rate mortgage
(FRM) averaged 4.51 percent for the week ending Aug. 23, down from last week when it averaged 4.53 percent. The 15-year FRM this week averaged 3.98 percent, down from last week when it averaged 4.01 percent. And the five-year Treasury-indexed hybrid adjustable-rate mortgage (ARM) averaged 3.82 percent, 
down from last week
 when it with an average 3.87 percent.
"It is clear affordability constraints have cooled the housing market, especially in expensive coastal markets," said Sam Khater, Freddie Mac's Chief Economist. "Many metro areas desperately need more new and existing affordable inventory to break out of this slump."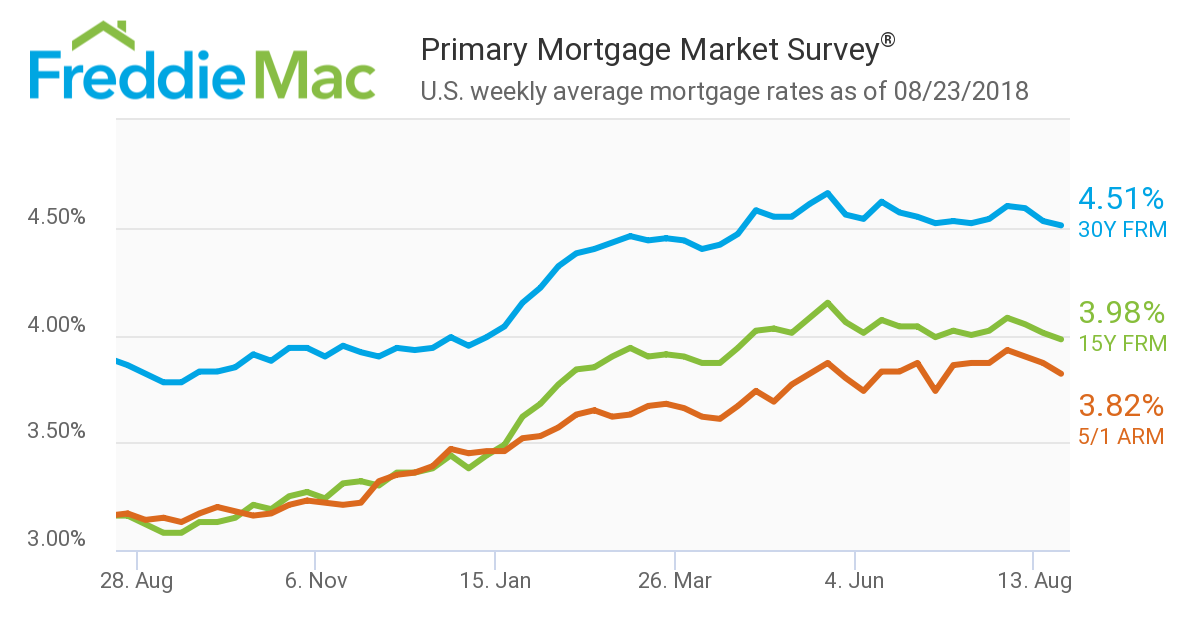 Separately, the Federal Housing Finance Agency (FHFA) reported a 1.1 percent second quarter increase in home prices during the second quarter. On an annualized basis, prices were up by 6.5 percent, with the greatest increases in Nevada (up 17 percent), Idaho (up 13 percent) and the District of Columbia (up 11.8 percent). North Dakota had the lowest year-over-year home price increase, up 2.1 percent.
But while home prices are up, home value growth is showing signs of cooling down. 
Zillow is reporting
 that annual home value growth during July showed in 20 of the nation's 35 largest housing markets. Seattle, which was the leader in home value growth one year ago, is now the 12th fastest-appreciating housing market with a nine percent appreciation rate—last year at this time, the rate was 14 percent.
"The nation's pricier markets are starting to feel an affordability squeeze as buyers begin to balk at the sustained, rapid rise in prices that have followed the strong job growth and high housing demand of the past half-decade," said
Zillow
Senior Economist Aaron Terrazas. "But despite the slowdown, home values are still growing faster than their historic pace in almost all large markets, and it's far too soon to call it a buyer's market. And in many of the nation's more affordable areas, aside from the pricey and exclusive San Francisco Bay Area, home value growth has perked up as buyers continue to seek good value for their money. But it's clear that the winds that have boosted sellers over the past few years are ever-so-slightly starting to shift."
HUNDREDS OF MORTGAGE OPTIONS UNDER ONE ROOF
Superior Mortgage Lending is a Las Vegas Mortgage Broker by design. We partner with several lenders to offer multiple Loan Products and we are not captured with certain credit scores and can offer better rates and no fees.  We have been in the Mortgage Industry  for over 18 years and we offer the most competitive rates in Nevada, California and Arizona. At Superior we have NO ORIGINATION AND NO UNDERWRITING FEES.